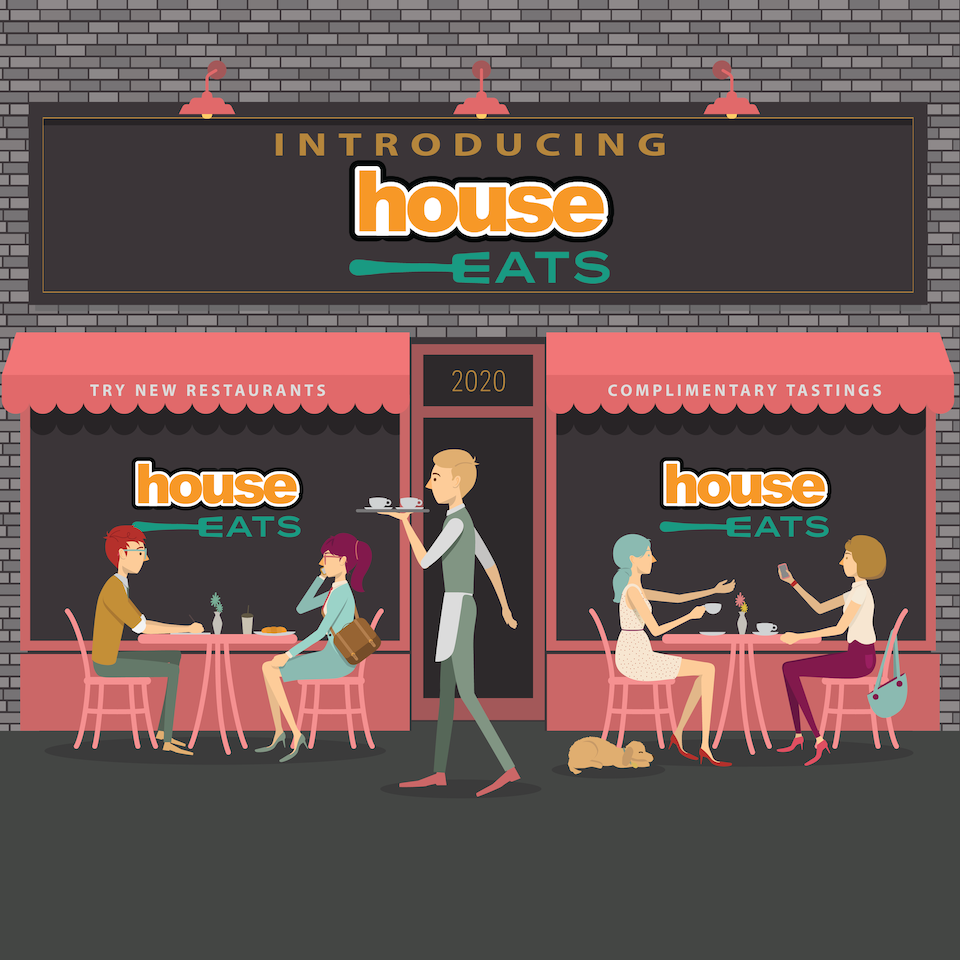 Calling all house seats members….Introducing - house EATS!!!
officially launching January 2020
Get your taste buds ready to enjoy a whole year's worth of delicious treats, and reserve your restaurant SEATS with house EATS!
Just like a show needs a full house to succeed,…restaurants need lots of guests to feed!
house EATS is revolutionizing the restaurant industry, incorporating the excitement of food & entertainment into one perfect bite!
Officially launching in JAN 2020, your membership to house EATS will provide a wonderful variety of complimentary restaurant tasting options for you to reserve and enjoy throughout the year, giving you the chance to explore the diverse culinary world in your own community!
Read More
What the heck is house EATS?
Good question! house EATS doesn't just rhyme with house seats,…it's actually very similar, except it tastes better! You can use your membership to house EATS to reserve complimentary restaurant tasting options throughout the year, whenever our partnering restaurants would like to introduce more new locals to what they've got cooking.
Why should I buy this thing?
Do you like good food?…we do too! Just like you've used your house seats membership to enjoy complimentary entertainment offers, house EATS provides our partnering restaurants with a service to fill their seats at slower times, while giving our members the opportunity to experience and enjoy complimentary tastings in a variety of local restaurants they may have never heard of before.
What is a tasting?
Our restaurant partners are encouraged to 'put their best meals forward'! The restaurant management, in conjunction with the chefs will decide what they will be offering to our house EATS members. This could be a series of small plate samplings of their most popular dishes, chef could invite our members to taste new, seasonal menu items that he/she is working on, or they may choose to offer our members a full meal. However, each individual offer will be at the complete and total discretion of the restaurant & chef / management team, and will also be provided in the details of each house EATS offer prior to reserving. If you prefer to try additional items from the menu that are not included in the complimentary tasting, you will be more than welcome to purchase them during your visit if you choose.

Beverages and gratuity are not included and are up to the discretion of our members.

Remember, the restaurants are hoping to give you a terrific experience so that you will come back, tell friends and leave great feedback!
---
interested in joining house EATS, but missed the prelaunch sale???
no worries! subscribe to our house EATS newsletter to receive up to date information for all future house EATS news, sales & promotions!