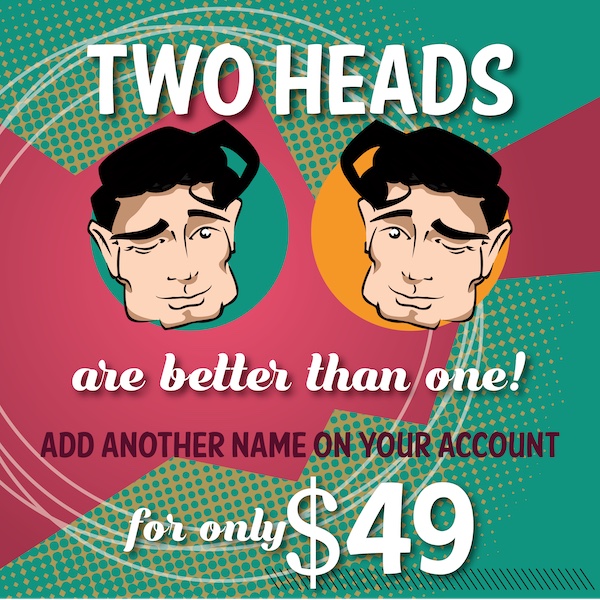 You know what they say....TWO HEADS are better than ONE!
Well, we think so too! After all, sharing is caring. And now, house seats is bringing something amazing and NEW just for YOU!
Announcing the all NEW house seats 2ND NAME UPGRADE OPTION!
Now, your house seats reservations can be made, not just by ONE name, but by TWO! Yep,...that's right...it's TRUE!!!

Now you can add a 2nd name to your membership by purchasing the all new 2nd name upgrade option for just $49.00!

For just a fraction of the cost of a traditional membership, you can add a 2nd name to your own account, and share your membership with your spouse, allowing you to enjoy house seats like never before!

Does your husband or wife want to see a show that doesn't interest you? Now they can go, and you don't have to!

Last minute conflict keeping you from picking up your tickets? Don't worry! Now your spouse can pick them up and attend in your place, so you can avoid those pesky "no show" penalties!

When it comes to having lots of FUN, TWO HEADS are definitely better than ONE!

We're so excited to provide this great new upgrade option for our members to enjoy!

**Be sure to take a peek below, for a few important details about this great new option.

Read More
the initial fee for the second name subscription is $49.00 through the current expiration date of your membership. after your current expiration date, the fee is $49 for each additional year for which you would like to include a second name.
second name subscription fee cannot be prorated.
second name subscription upgrade is non-refundable and non-transferrable.
this option is for legal spouses ONLY. house seats reserves the right to ask for proof of marriage or domestic partnership.
second name is a ONE TIME and PERMANENT addition. It can only be changed in the event of death or divorce.
both names will appear on every reservation. Either the primary account holder or the secondary named individual must pick up the tickets.
any no-show penalties will apply to the primary account holder
if you have already purchased the text notification upgrade, only the primary account holder will receive the text messages.
That wasn't too bad, was it?! So, go ahead! Get out there and enjoy a brand NEW convenience and freedom with your house seats membership!
---