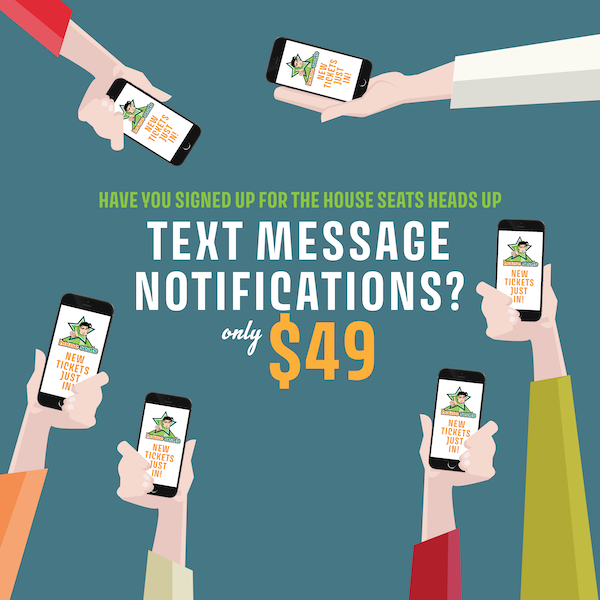 What the heck is this thing?
Premium Text Notification
Since house seats first began in 2005, our members have been asking for the ability to receive special notifications when great new offers become available. We've listened to these requests…and here it is! When house seats offers something super cool,..you'll know about it first!
The PTN (Premium Text Notification) option provides you with up to 10 texts per month to the cell number that you provide at checkout, notifying you when new and exciting offers are added to the house seats website. The shows & events featured in these text notifications are at the sole discretion of house seats. However, all special text notifications will feature higher profile offers that do not already appear every day. The text notification is not a guarantee that you will receive tickets for these featured offers; it is only a special notification to inform you when they become available. You cannot reserve tickets, nor communicate with house seats through these text messages. Tickets will still be reserved in the traditional fashion, directly through the website when logged into your account.
Customer Service may still always be reached via email rsvp@houseseatslv.com
The fee for the PTN UPGRADE is $49. This gets you up to 10 text notifications per month through the current expiration date of your membership. If you have taken advantage of our 2 for 1 deals, and have a membership that expires years from now, then you are getting a super amazing deal. If your membership expires in a few days or months, don't worry! Simply RENEW your membership first to add more time, and then add the text notification UPGRADE to get more bang for your buck! Each year after that, the UPGRADE is the same $49.
This is an option to receive notifications by text message ONLY, and does not apply to home phones nor email. house seats is not responsible for incorrect phone numbers, and/or undelivered text messages. Standard text messaging rates may still apply through an individual's own carrier.
Read More
Why should I buy this?
We're so glad you asked!!! Since house seats first began in 2005, the #1 most requested addition that our members have asked for is the ability to be personally notified when the bigger and more high profile shows & events are offered. We know you're busy...and you don't have time to constantly check the site all day. So, house seats created this text notification option to make it a little easier for you to get out there and have a great time.
Why do I have to pay to receive text notifications from house seats?
With this text option, house seats members have the ability to receive special notifications to alert them in real time, either moments before or at the exact time these popular offers become available. However, text messages aren't free to send. So, in order for us to send these notifications as a special service for those who would like to have it, this text upgrade requires a fee so that we can provide it.
Does this change my account? Will it make tickets even harder to get if I don't purchase the upgrade?
Not at all! Every single offer will still be available on the site for all members exactly the same way that they always have, on a first come first serve basis. Of course, some folks who have this text option might see that something cool has been added a few seconds before others. Lots of members who don't have the text option might already be checking the site, and will still be able to get those big name shows just by the luck of the draw. Keep in mind that limitations for high profile shows are always still in place. So, if you might miss a big show the first time it's offered, then you'll have a much better chance to reserve it the next time it pops up on the site.
Why can't you send notifications when every new show is posted? Why does house seats choose the shows that are featured in text notifications?
house seats offers an average of well over 30 different shows & events every day, 365 days a year, with brand new offers popping up all the time. We certainly don't want to annoy anyone with an overload of notifications. While the featured offers are at house seats discretion, they will most definitely include the higher profile offers that do not already appear on a regular basis.
I only have a month left to my membership, why should I pay $49. Can't you prorate?
Nope. This text notification upgrade costs a flat fee of $49, and we're not able to chop that price up into little bits. But, if you only have a short amount of time left, we suggest RENEWING your membership first to add another whole year, and then purchasing the $49 text upgrade. This way, you'll get this special text option for even longer!
Will this option be available on the two for one sales?
You bet it will!! This text notification upgrade lasts through your current expiration date. So, no matter how many years of house seats membership you choose to purchase, this text option will follow you along like your own personal little buddy who likes to tell you about cool stuff going on around town.
Can I reserve tickets thru the text messages?
Nope. Text messages are simple notifications, and are not connected to the house seats site, or to your account. So, if you see a text notification saying that a new offer has been added, then all you'll have to do is take a few seconds to log in, and see what's waiting for you.
Won't people just tell all of their friends or post on Facebook when they get the text?
Well,...they might. But it's against the rules to do it! If any members are caught misusing this text option, it will result in immediate and permanent suspension. Plus, in the time it takes to tell people about it, other folks who saw the notifications are probably already reserving the offer.
What if my cell number changes?
That's an easy one! If you change your cell number, simply email customer service at rsvp@houseseatslv.com with your new number and we will update that for you right away.
**house seats reserves the right to modify and/or enhance the premium text notification option at any time
---